© C.Hamm

A l'arrière le Mont Sainte-Odile - © C.Hamm

© C.Hamm

© C.Hamm

Entre Boersch et Ottrott - © C.Hamm

Du côté de Saint-Nabor - © C.Hamm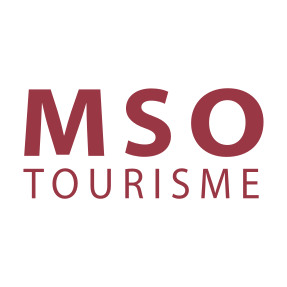 GreenWay - "Portes Bonheur, the lane to Saint Nabor quarry "
Circuits, sentiers et itinéraires
- 67560 Rosheim
03 88 50 75 38 - contact@mso-tourisme.com
www.portes.mso-tourisme.com
The new Voie Verte is an 11-kilometre route at the foot of Mont Sainte-Odile, linking Rosheim to Saint-Nabor on the old railway line.

In addition to the landscapes you will discover on foot, by bike, scooter or stroller with magnificent views, you will walk in the middle of a mosaic of natural spaces. Real reservoirs of biodiversity!

The way also gives pride of place to contemporary art through the spectacular works imagined by the Norwegian architect Reiulf Ramstad.

This path is also the pleasure of hiking circuits and cycling loops that lead to major sites of the region.

Welcome to the most charming green lanes in Alsace!
o
Location :
At the edge of the forest
In the forest
Piedmont (vineyards)
Plain
Panoramic view
Length of visit/event :
Half-day
Level of difficulty :
Suitable for everyone
Distance (km) à la gare la plus proche :
1
location
Calculate itinerary:
Venue of the event :
Neuland Street in Rosheim
Level of difficulty :
Suitable for everyone
Length of visit/event :
Half-day
Vidéo

Voir la video
Array
(
    [id] => 258002951
    [nom] => GreenWay - "Portes Bonheur, the lane to Saint Nabor quarry "
    [type] => Array
        (
            [id] => 1900316
            [nom] => Circuits, sentiers et itinéraires
        )

    [entite_gestionnaire] => 258
    [nom_entite_gestionnaire] => Office de tourisme intercommunal du Mont Sainte-Odile Grpe Touristique du Mnt Ste Odile
    [coordonnees] => Array
        (
            [complement_adresse] => Carrières de Saint-Nabor
            [code_postal] => 67560
            [libelle_commune] => Rosheim
            [telephone1] => 03 88 50 75 38
            [email1] => contact@mso-tourisme.com
            [url1] => www.portes.mso-tourisme.com
            [pays] => FRANCE
        )

    [insee] => 67411
    [type_georeferencement] => 2
    [libelle_georeferencement] => précis
    [latitude] => 48,5015197510018
    [longitude] => 7,47918638467786
    [commentaire] => The new Voie Verte is an 11-kilometre route at the foot of Mont Sainte-Odile, linking Rosheim to Saint-Nabor on the old railway line.
<br /><br />
In addition to the landscapes you will discover on foot, by bike, scooter or stroller with magnificent views, you will walk in the middle of a mosaic of natural spaces. Real reservoirs of biodiversity! 
<br /><br />
The way also gives pride of place to contemporary art through the spectacular works imagined by the Norwegian architect Reiulf Ramstad. 
<br /><br />
This path is also the pleasure of hiking circuits and cycling loops that lead to major sites of the region.
<br /><br />
Welcome to the most charming green lanes in Alsace!
    [prestataire] => Array
        (
            [raison_sociale] => 
            [civilite] => 
            [nom] => 
            [prenom] => 
            [fonction] => 
            [coordonnees] => Array
                (
                    [num_voie] => 
                    [libelle_voie] => 
                    [distri_speciale] => 
                    [code_postal] => 67560
                    [libelle_commune] => Rosheim
                    [telephone1] => 03 88 50 75 38
                    [telephone2] => 
                    [telephone3] => 
                    [fax] => 
                    [email1] => 
                    [email2] => 
                    [url1] => 
                    [url2] => 
                    [pays] => FRANCE
                )

        )

    [debut_validite] => 18/06/2019
    [fin_validite] => 31/12/2050
    [marquage] => 0
    [datmaj] => 27/10/2022 16:54:01
    [datecreation] => 18/06/2019 16:09:47
    [horaires] => Array
        (
        )

    [produits_associes] => Array
        (
            [0] => Array
                (
                    [id] => 258003133
                    [nom] => Hiking tour - Between vineyards and orchards
                    [id_type] => 1900316
                    [type_couplage] => 10
                )

            [1] => Array
                (
                    [id] => 258003152
                    [nom] => Hiking tour  - The Abbeys
                    [id_type] => 1900316
                    [type_couplage] => 10
                )

            [2] => Array
                (
                    [id] => 258003159
                    [nom] => Hiking tour - The Ottrott Castles
                    [id_type] => 1900316
                    [type_couplage] => 10
                )

            [3] => Array
                (
                    [id] => 258003160
                    [nom] => Hiking tour - The Bischenberg
                    [id_type] => 1900316
                    [type_couplage] => 10
                )

            [4] => Array
                (
                    [id] => 258003188
                    [nom] => Hiking tour - The Westerberg
                    [id_type] => 1900316
                    [type_couplage] => 10
                )

            [5] => Array
                (
                    [id] => 258003186
                    [nom] => Hiking tour - From Boersch to Obernai
                    [id_type] => 1900316
                    [type_couplage] => 10
                )

            [6] => Array
                (
                    [id] => 258003187
                    [nom] => Walking tours - From the gates of Boersch to St-Léonard
                    [id_type] => 1900316
                    [type_couplage] => 10
                )

        )

    [criteres] => Array
        (
            [0] => Array
                (
                    [id] => 900000
                    [nom] => Secteur
                    [type_critere] => -1
                    [type_valeur] => 2
                    [classe] => 0
                    [modalites] => Array
                        (
                            [0] => Array
                                (
                                    [id] => 1903852
                                    [nom] => Région
                                    [ordre] => 0
                                )

                            [1] => Array
                                (
                                    [id] => 1903610
                                    [nom] => Pays Bruche Piémont Mossig
                                    [ordre] => 0
                                )

                            [2] => Array
                                (
                                    [id] => 1901942
                                    [nom] => Pays du sapin de Noël
                                    [ordre] => 0
                                )

                        )

                )

            [1] => Array
                (
                    [id] => 900002
                    [nom] => Tracé KML
                    [type_critere] => 0
                    [type_valeur] => 6
                    [classe] => 2
                    [valeur] => https://apps.tourisme-alsace.info/traces/258002951.kml
                )

            [2] => Array
                (
                    [id] => 900003
                    [nom] => Dates et heures en texte
                    [type_critere] => 0
                    [type_valeur] => 2
                    [classe] => 0
                    [valeur] =>  From 1st January 2021 to 31th December 2022 daily from 07:00 to 20:00.<br/>
                )

            [3] => Array
                (
                    [id] => 900007
                    [nom] => Tracé GPX
                    [type_critere] => 0
                    [type_valeur] => 6
                    [classe] => 2
                    [valeur] => https://apps.tourisme-alsace.info/traces/258002951.gpx
                )

            [4] => Array
                (
                    [id] => 1900013
                    [nom] => Distance (km) à la gare la plus proche
                    [type_critere] => 0
                    [type_valeur] => 1
                    [classe] => 2
                    [valeur] => 1
                )

            [5] => Array
                (
                    [id] => 1900179
                    [nom] => Classification Flowered Villages
                    [type_critere] => 1
                    [type_valeur] => 2
                    [classe] => 1
                    [modalites] => Array
                        (
                            [0] => Array
                                (
                                    [id] => 1900893
                                    [nom] => 2 flowers
                                    [ordre] => 2
                                )

                            [1] => Array
                                (
                                    [id] => 1900894
                                    [nom] => 3 flowers
                                    [ordre] => 3
                                )

                        )

                )

            [6] => Array
                (
                    [id] => 1900189
                    [nom] => Location
                    [type_critere] => -1
                    [type_valeur] => 2
                    [classe] => 2
                    [modalites] => Array
                        (
                            [0] => Array
                                (
                                    [id] => 1901216
                                    [nom] => At the edge of the forest
                                    [ordre] => 55
                                )

                            [1] => Array
                                (
                                    [id] => 1908044
                                    [nom] => In the forest
                                    [ordre] => 175
                                )

                            [2] => Array
                                (
                                    [id] => 1901207
                                    [nom] => Piedmont (vineyards)
                                    [ordre] => 270
                                )

                            [3] => Array
                                (
                                    [id] => 1901208
                                    [nom] => Plain
                                    [ordre] => 280
                                )

                            [4] => Array
                                (
                                    [id] => 1901211
                                    [nom] => Panoramic view
                                    [ordre] => 350
                                )

                        )

                )

            [7] => Array
                (
                    [id] => 1900219
                    [nom] => Venue of the event
                    [type_critere] => 0
                    [type_valeur] => 2
                    [classe] => 2
                    [valeur] => Neuland Street in Rosheim
                )

            [8] => Array
                (
                    [id] => 1900267
                    [nom] => Disabled access
                    [type_critere] => 1
                    [type_valeur] => 2
                    [classe] => 4
                    [modalites] => Array
                        (
                            [0] => Array
                                (
                                    [id] => 1901656
                                    [nom] => Yes
                                    [ordre] => 1
                                )

                        )

                )

            [9] => Array
                (
                    [id] => 1900358
                    [nom] => A transmettre pour Internet
                    [type_critere] => 1
                    [type_valeur] => 2
                    [classe] => 0
                    [modalites] => Array
                        (
                            [0] => Array
                                (
                                    [id] => 1902207
                                    [nom] => Yes
                                    [ordre] => 1
                                )

                        )

                )

            [10] => Array
                (
                    [id] => 1900421
                    [nom] => Photo URL
                    [type_critere] => 0
                    [type_valeur] => 6
                    [classe] => 0
                    [valeur] => apps.tourisme-alsace.info/photos/rosheim/photos/258002951_1.jpg
                )

            [11] => Array
                (
                    [id] => 1900461
                    [nom] => Secteur carte
                    [type_critere] => -1
                    [type_valeur] => 2
                    [classe] => 0
                    [modalites] => Array
                        (
                            [0] => Array
                                (
                                    [id] => 1903506
                                    [nom] => Obernai
                                    [ordre] => 0
                                )

                            [1] => Array
                                (
                                    [id] => 1908335
                                    [nom] => Massif des Vosges
                                    [ordre] => 0
                                )

                            [2] => Array
                                (
                                    [id] => 1908571
                                    [nom] => Route des vins (site Alsace)
                                    [ordre] => 0
                                )

                            [3] => Array
                                (
                                    [id] => 1909124
                                    [nom] => Massif Vosges - Vosges centrales
                                    [ordre] => 0
                                )

                            [4] => Array
                                (
                                    [id] => 1909236
                                    [nom] => Oenotourisme - Coeur d'Alsace
                                    [ordre] => 0
                                )

                            [5] => Array
                                (
                                    [id] => 1911639
                                    [nom] => Alsace (site Alsace)
                                    [ordre] => 0
                                )

                            [6] => Array
                                (
                                    [id] => 1909895
                                    [nom] => Vélo Colmar et centre Alsaceet nord
                                    [ordre] => 0
                                )

                        )

                )

            [12] => Array
                (
                    [id] => 1900480
                    [nom] => Photo caption
                    [type_critere] => 0
                    [type_valeur] => 2
                    [classe] => 0
                    [valeur] => © C.Hamm
                )

            [13] => Array
                (
                    [id] => 1900482
                    [nom] => Commentaire court EN
                    [type_critere] => 0
                    [type_valeur] => 2
                    [classe] => 4
                    [valeur] => 11 km of unusual walks between Rosheim and Saint-Nabor, passing through Boersch and Ottrott!
                )

            [14] => Array
                (
                    [id] => 1900487
                    [nom] => Length of visit/event
                    [type_critere] => 1
                    [type_valeur] => 2
                    [classe] => 4
                    [modalites] => Array
                        (
                            [0] => Array
                                (
                                    [id] => 1904662
                                    [nom] => Half-day
                                    [ordre] => 26
                                )

                        )

                )

            [15] => Array
                (
                    [id] => 1900564
                    [nom] => Level of difficulty
                    [type_critere] => 1
                    [type_valeur] => 2
                    [classe] => 4
                    [modalites] => Array
                        (
                            [0] => Array
                                (
                                    [id] => 1904402
                                    [nom] => Suitable for everyone
                                    [ordre] => 1
                                )

                        )

                )

            [16] => Array
                (
                    [id] => 1900603
                    [nom] => Photo URL2
                    [type_critere] => 0
                    [type_valeur] => 6
                    [classe] => 0
                    [valeur] => apps.tourisme-alsace.info/photos/rosheim/photos/258002951_5.jpg
                )

            [17] => Array
                (
                    [id] => 1900661
                    [nom] => Photo légende 2
                    [type_critere] => 0
                    [type_valeur] => 2
                    [classe] => 0
                    [valeur] => A l'arrière le Mont Sainte-Odile - © C.Hamm
                )

            [18] => Array
                (
                    [id] => 1900714
                    [nom] => Interest
                    [type_critere] => 1
                    [type_valeur] => 2
                    [classe] => 0
                    [modalites] => Array
                        (
                            [0] => Array
                                (
                                    [id] => 1905855
                                    [nom] => Remarkable
                                    [ordre] => 15
                                )

                        )

                )

            [19] => Array
                (
                    [id] => 1900739
                    [nom] => Brochures 2006
                    [type_critere] => -1
                    [type_valeur] => 2
                    [classe] => 0
                    [modalites] => Array
                        (
                            [0] => Array
                                (
                                    [id] => 1911829
                                    [nom] => Site web ADOTGE
                                    [ordre] => 850
                                )

                        )

                )

            [20] => Array
                (
                    [id] => 1900751
                    [nom] => Photo URL3
                    [type_critere] => 0
                    [type_valeur] => 6
                    [classe] => 0
                    [valeur] => apps.tourisme-alsace.info/photos/rosheim/photos/258002951_4.jpg
                )

            [21] => Array
                (
                    [id] => 1900752
                    [nom] => Photo légende 3
                    [type_critere] => 0
                    [type_valeur] => 2
                    [classe] => 0
                    [valeur] => © C.Hamm
                )

            [22] => Array
                (
                    [id] => 1900781
                    [nom] => Photo URL4
                    [type_critere] => 0
                    [type_valeur] => 6
                    [classe] => 0
                    [valeur] => apps.tourisme-alsace.info/photos/rosheim/photos/258002951_6.jpg
                )

            [23] => Array
                (
                    [id] => 1900782
                    [nom] => Photo URL5
                    [type_critere] => 0
                    [type_valeur] => 6
                    [classe] => 0
                    [valeur] => apps.tourisme-alsace.info/photos/rosheim/photos/258002951_7.jpg
                )

            [24] => Array
                (
                    [id] => 1900783
                    [nom] => Photo légende 4
                    [type_critere] => 0
                    [type_valeur] => 2
                    [classe] => 0
                    [valeur] => © C.Hamm
                )

            [25] => Array
                (
                    [id] => 1900784
                    [nom] => Photo légende 5
                    [type_critere] => 0
                    [type_valeur] => 2
                    [classe] => 0
                    [valeur] => Entre Boersch et Ottrott - © C.Hamm
                )

            [26] => Array
                (
                    [id] => 1900828
                    [nom] => Vidéo
                    [type_critere] => 0
                    [type_valeur] => 2
                    [classe] => 0
                    [valeur] => <iframe src="https://www.destination-alsace.fr/emb/TIQeT5qgcX" allowfullscreen frameborder="0" width="720" height="405" ></iframe>
                )

            [27] => Array
                (
                    [id] => 1900861
                    [nom] => Photo url 6
                    [type_critere] => 0
                    [type_valeur] => 6
                    [classe] => 0
                    [valeur] => apps.tourisme-alsace.info/photos/rosheim/photos/258002951_11.jpg
                )

            [28] => Array
                (
                    [id] => 1900866
                    [nom] => Photo légende 6
                    [type_critere] => 0
                    [type_valeur] => 2
                    [classe] => 0
                    [valeur] => Du côté de Saint-Nabor - © C.Hamm
                )

            [29] => Array
                (
                    [id] => 1900886
                    [nom] => Secteur carte Obernai
                    [type_critere] => 1
                    [type_valeur] => 2
                    [classe] => 0
                    [modalites] => Array
                        (
                            [0] => Array
                                (
                                    [id] => 1907237
                                    [nom] => D2
                                    [ordre] => 0
                                )

                        )

                )

            [30] => Array
                (
                    [id] => 1901095
                    [nom] => Thématqiue pour tourisme-alsace.com
                    [type_critere] => -1
                    [type_valeur] => 2
                    [classe] => 0
                    [modalites] => Array
                        (
                            [0] => Array
                                (
                                    [id] => 1908977
                                    [nom] => Art contemporain
                                    [ordre] => 5
                                )

                            [1] => Array
                                (
                                    [id] => 1908501
                                    [nom] => Patrimoine technique et industriel
                                    [ordre] => 160
                                )

                            [2] => Array
                                (
                                    [id] => 1911502
                                    [nom] => Vélo
                                    [ordre] => 210
                                )

                        )

                )

            [31] => Array
                (
                    [id] => 1901313
                    [nom] => Address - location information of car park closest to departure point
                    [type_critere] => 0
                    [type_valeur] => 2
                    [classe] => 1
                    [valeur] => Neuland Car park in Rosheim
                )

            [32] => Array
                (
                    [id] => 1901314
                    [nom] => Commentaire traduit en
                    [type_critere] => -1
                    [type_valeur] => 2
                    [classe] => 0
                    [modalites] => Array
                        (
                            [0] => Array
                                (
                                    [id] => 1909729
                                    [nom] => EN
                                    [ordre] => 0
                                )

                            [1] => Array
                                (
                                    [id] => 1909728
                                    [nom] => DE
                                    [ordre] => 0
                                )

                            [2] => Array
                                (
                                    [id] => 1909727
                                    [nom] => FR
                                    [ordre] => 0
                                )

                        )

                )

            [33] => Array
                (
                    [id] => 1901401
                    [nom] => Photo url 16
                    [type_critere] => 0
                    [type_valeur] => 6
                    [classe] => 0
                    [valeur] => apps.tourisme-alsace.info/photos/rosheim/photos/258002951_25.JPG
                )

            [34] => Array
                (
                    [id] => 1901402
                    [nom] => Photo légende 16
                    [type_critere] => 0
                    [type_valeur] => 2
                    [classe] => 0
                    [valeur] => ©C.Hamm
                )

            [35] => Array
                (
                    [id] => 1901413
                    [nom] => Tarif synthétique (avizi)
                    [type_critere] => 0
                    [type_valeur] => 1
                    [classe] => 32
                    [valeur] => -1
                )

            [36] => Array
                (
                    [id] => 1901421
                    [nom] => GRC pré sélection
                    [type_critere] => 1
                    [type_valeur] => 2
                    [classe] => 0
                    [modalites] => Array
                        (
                            [0] => Array
                                (
                                    [id] => 1911149
                                    [nom] => Oui
                                    [ordre] => 0
                                )

                        )

                )

            [37] => Array
                (
                    [id] => 1901440
                    [nom] => GRC accroche
                    [type_critere] => 0
                    [type_valeur] => 2
                    [classe] => 4
                    [valeur] => This 11 km atypical greenway between Rosheim and Saint-Nabor passes through Boersch and Ottrott at the foot of Mont Sainte-Odile. With beautiful viewpoints, diverse natural areas, contemporary art and more, come and discover this lovely stroll!
                )

            [38] => Array
                (
                    [id] => 1901479
                    [nom] => PDF GRC
                    [type_critere] => -1
                    [type_valeur] => 2
                    [classe] => 0
                    [modalites] => Array
                        (
                            [0] => Array
                                (
                                    [id] => 1911334
                                    [nom] => Obernai
                                    [ordre] => 60
                                )

                            [1] => Array
                                (
                                    [id] => 1911668
                                    [nom] => J7
                                    [ordre] => 400
                                )

                        )

                )

            [39] => Array
                (
                    [id] => 1901495
                    [nom] => Liesel - inspiration
                    [type_critere] => 1
                    [type_valeur] => 2
                    [classe] => 0
                    [modalites] => Array
                        (
                            [0] => Array
                                (
                                    [id] => 1911411
                                    [nom] => Bouger, se défouler
                                    [ordre] => 50
                                )

                        )

                )

            [40] => Array
                (
                    [id] => 1901499
                    [nom] => La photo est disponible en OpenData (Datatourisme)
                    [type_critere] => 1
                    [type_valeur] => 2
                    [classe] => 0
                    [modalites] => Array
                        (
                            [0] => Array
                                (
                                    [id] => 1911420
                                    [nom] => Oui
                                    [ordre] => 10
                                )

                        )

                )

            [41] => Array
                (
                    [id] => 1901505
                    [nom] => Type de circuit, itinéraire
                    [type_critere] => 1
                    [type_valeur] => 2
                    [classe] => 4
                    [modalites] => Array
                        (
                            [0] => Array
                                (
                                    [id] => 1911538
                                    [nom] => Cyclo (route, piste cyclable))
                                    [ordre] => 20
                                )

                        )

                )

            [42] => Array
                (
                    [id] => 1901509
                    [nom] => URL site Liesel
                    [type_critere] => 0
                    [type_valeur] => 6
                    [classe] => 0
                    [valeur] => https://en.liesel.alsace/article/voie-verte-portes-bonheur-chemin-des-carrieres-258002951
                )

            [43] => Array
                (
                    [id] => 1901517
                    [nom] => Url photo Opendata
                    [type_critere] => 0
                    [type_valeur] => 6
                    [classe] => 0
                    [valeur] => https://opendata.tourisme-alsace.info/photos/rosheim/photos/258002951_1_800x600.jpg
                )

            [44] => Array
                (
                    [id] => 1901519
                    [nom] => Cpyright photo Opendata
                    [type_critere] => 0
                    [type_valeur] => 2
                    [classe] => 0
                    [valeur] => © C.Hamm
                )

            [45] => Array
                (
                    [id] => 1901523
                    [nom] => Nom de la gare la plus proche
                    [type_critere] => 0
                    [type_valeur] => 2
                    [classe] => 2
                    [valeur] => Rosheim
                )

            [46] => Array
                (
                    [id] => 211000015
                    [nom] => HERE_fiche pour export (selction)
                    [type_critere] => 1
                    [type_valeur] => 2
                    [classe] => 32
                    [modalites] => Array
                        (
                            [0] => Array
                                (
                                    [id] => 211000077
                                    [nom] => oui
                                    [ordre] => 1
                                )

                        )

                )

            [47] => Array
                (
                    [id] => 212000167
                    [nom] => Site-route-des-vins
                    [type_critere] => -1
                    [type_valeur] => 2
                    [classe] => 32
                    [modalites] => Array
                        (
                            [0] => Array
                                (
                                    [id] => 212000881
                                    [nom] => Balade vélo
                                    [ordre] => 
                                )

                        )

                )

            [48] => Array
                (
                    [id] => 212000209
                    [nom] => Va - Thématique activité
                    [type_critere] => -1
                    [type_valeur] => 2
                    [classe] => 32
                    [modalites] => Array
                        (
                            [0] => Array
                                (
                                    [id] => 212000838
                                    [nom] => Art contemp et street Art
                                    [ordre] => 
                                )

                            [1] => Array
                                (
                                    [id] => 212000827
                                    [nom] => Patrimoine industriel
                                    [ordre] => 
                                )

                        )

                )

            [49] => Array
                (
                    [id] => 220000042
                    [nom] => GRC quotidien animation 2
                    [type_critere] => 2
                    [type_valeur] => 3
                    [classe] => 32
                    [modalites] => Array
                        (
                            [0] => Array
                                (
                                    [id] => 220000280
                                    [nom] => date1
                                    [ordre] => 10
                                    [valeur] => 31/01/2023
                                )

                            [1] => Array
                                (
                                    [id] => 220000291
                                    [nom] => date12
                                    [ordre] => 120
                                    [valeur] => 11/02/2023
                                )

                            [2] => Array
                                (
                                    [id] => 220000300
                                    [nom] => date21
                                    [ordre] => 210
                                    [valeur] => 20/02/2023
                                )

                            [3] => Array
                                (
                                    [id] => 220000305
                                    [nom] => date26
                                    [ordre] => 260
                                    [valeur] => 25/02/2023
                                )

                        )

                )

            [50] => Array
                (
                    [id] => 258000003
                    [nom] => Odile site Internet
                    [type_critere] => 1
                    [type_valeur] => 2
                    [classe] => 32
                    [modalites] => Array
                        (
                            [0] => Array
                                (
                                    [id] => 258000005
                                    [nom] => yes
                                    [ordre] => 
                                )

                        )

                )

            [51] => Array
                (
                    [id] => 258000020
                    [nom] => OTI : découvrez
                    [type_critere] => -1
                    [type_valeur] => 2
                    [classe] => 32
                    [modalites] => Array
                        (
                            [0] => Array
                                (
                                    [id] => 258000082
                                    [nom] => Incontournables
                                    [ordre] => 0
                                )

                        )

                )

            [52] => Array
                (
                    [id] => 258000021
                    [nom] => OTI : participez
                    [type_critere] => -1
                    [type_valeur] => 2
                    [classe] => 32
                    [modalites] => Array
                        (
                            [0] => Array
                                (
                                    [id] => 258000087
                                    [nom] => Sentiers, balades, randos
                                    [ordre] => 0
                                )

                            [1] => Array
                                (
                                    [id] => 258000088
                                    [nom] => à Vélo
                                    [ordre] => 10
                                )

                        )

                )

            [53] => Array
                (
                    [id] => 258000051
                    [nom] => OTI Explorez
                    [type_critere] => -1
                    [type_valeur] => 2
                    [classe] => 32
                    [modalites] => Array
                        (
                            [0] => Array
                                (
                                    [id] => 258000133
                                    [nom] => Rando, vélo
                                    [ordre] => 4
                                )

                        )

                )

            [54] => Array
                (
                    [id] => 258000054
                    [nom] => MSO- GRC J-7  événement Alsace
                    [type_critere] => 2
                    [type_valeur] => 3
                    [classe] => 32
                    [modalites] => Array
                        (
                            [0] => Array
                                (
                                    [id] => 258000150
                                    [nom] => date1
                                    [ordre] => 1
                                    [valeur] => 01/02/2023
                                )

                            [1] => Array
                                (
                                    [id] => 258000151
                                    [nom] => date2
                                    [ordre] => 2
                                    [valeur] => 02/02/2023
                                )

                            [2] => Array
                                (
                                    [id] => 258000152
                                    [nom] => date3
                                    [ordre] => 3
                                    [valeur] => 03/02/2023
                                )

                            [3] => Array
                                (
                                    [id] => 258000153
                                    [nom] => date4
                                    [ordre] => 4
                                    [valeur] => 04/02/2023
                                )

                            [4] => Array
                                (
                                    [id] => 258000154
                                    [nom] => date5
                                    [ordre] => 5
                                    [valeur] => 05/02/2023
                                )

                            [5] => Array
                                (
                                    [id] => 258000155
                                    [nom] => date6
                                    [ordre] => 6
                                    [valeur] => 06/02/2023
                                )

                            [6] => Array
                                (
                                    [id] => 258000156
                                    [nom] => date7
                                    [ordre] => 7
                                    [valeur] => 07/02/2023
                                )

                            [7] => Array
                                (
                                    [id] => 258000157
                                    [nom] => date8
                                    [ordre] => 8
                                    [valeur] => 08/02/2023
                                )

                            [8] => Array
                                (
                                    [id] => 258000158
                                    [nom] => date9
                                    [ordre] => 9
                                    [valeur] => 09/02/2023
                                )

                            [9] => Array
                                (
                                    [id] => 258000159
                                    [nom] => date10
                                    [ordre] => 10
                                    [valeur] => 10/02/2023
                                )

                            [10] => Array
                                (
                                    [id] => 258000160
                                    [nom] => date11
                                    [ordre] => 11
                                    [valeur] => 11/02/2023
                                )

                            [11] => Array
                                (
                                    [id] => 258000161
                                    [nom] => date12
                                    [ordre] => 12
                                    [valeur] => 12/02/2023
                                )

                            [12] => Array
                                (
                                    [id] => 258000162
                                    [nom] => date13
                                    [ordre] => 13
                                    [valeur] => 13/02/2023
                                )

                            [13] => Array
                                (
                                    [id] => 258000163
                                    [nom] => date14
                                    [ordre] => 14
                                    [valeur] => 14/02/2023
                                )

                            [14] => Array
                                (
                                    [id] => 258000164
                                    [nom] => date15
                                    [ordre] => 15
                                    [valeur] => 15/02/2023
                                )

                            [15] => Array
                                (
                                    [id] => 258000165
                                    [nom] => date16
                                    [ordre] => 16
                                    [valeur] => 16/02/2023
                                )

                            [16] => Array
                                (
                                    [id] => 258000166
                                    [nom] => date17
                                    [ordre] => 17
                                    [valeur] => 17/02/2023
                                )

                            [17] => Array
                                (
                                    [id] => 258000167
                                    [nom] => date18
                                    [ordre] => 18
                                    [valeur] => 18/02/2023
                                )

                            [18] => Array
                                (
                                    [id] => 258000168
                                    [nom] => date19
                                    [ordre] => 19
                                    [valeur] => 19/02/2023
                                )

                            [19] => Array
                                (
                                    [id] => 258000169
                                    [nom] => date20
                                    [ordre] => 20
                                    [valeur] => 20/02/2023
                                )

                            [20] => Array
                                (
                                    [id] => 258000170
                                    [nom] => date21
                                    [ordre] => 21
                                    [valeur] => 21/02/2023
                                )

                            [21] => Array
                                (
                                    [id] => 258000171
                                    [nom] => date22
                                    [ordre] => 22
                                    [valeur] => 22/02/2023
                                )

                            [22] => Array
                                (
                                    [id] => 258000172
                                    [nom] => date23
                                    [ordre] => 23
                                    [valeur] => 23/02/2023
                                )

                            [23] => Array
                                (
                                    [id] => 258000173
                                    [nom] => date24
                                    [ordre] => 24
                                    [valeur] => 24/02/2023
                                )

                            [24] => Array
                                (
                                    [id] => 258000174
                                    [nom] => date25
                                    [ordre] => 25
                                    [valeur] => 25/02/2023
                                )

                            [25] => Array
                                (
                                    [id] => 258000175
                                    [nom] => date26
                                    [ordre] => 26
                                    [valeur] => 26/02/2023
                                )

                            [26] => Array
                                (
                                    [id] => 258000176
                                    [nom] => date27
                                    [ordre] => 27
                                    [valeur] => 27/02/2023
                                )

                            [27] => Array
                                (
                                    [id] => 258000177
                                    [nom] => date28
                                    [ordre] => 28
                                    [valeur] => 28/02/2023
                                )

                            [28] => Array
                                (
                                    [id] => 258000363
                                    [nom] => date39
                                    [ordre] => 39
                                    [valeur] => 31/01/2023
                                )

                            [29] => Array
                                (
                                    [id] => 258000365
                                    [nom] => date41
                                    [ordre] => 41
                                    [valeur] => 30/01/2023
                                )

                            [30] => Array
                                (
                                    [id] => 258000366
                                    [nom] => date42
                                    [ordre] => 42
                                    [valeur] => 29/01/2023
                                )

                            [31] => Array
                                (
                                    [id] => 258000367
                                    [nom] => date43
                                    [ordre] => 43
                                    [valeur] => 28/01/2023
                                )

                            [32] => Array
                                (
                                    [id] => 258000368
                                    [nom] => date44
                                    [ordre] => 44
                                    [valeur] => 27/01/2023
                                )

                            [33] => Array
                                (
                                    [id] => 258000369
                                    [nom] => date45
                                    [ordre] => 45
                                    [valeur] => 26/01/2023
                                )

                            [34] => Array
                                (
                                    [id] => 258000370
                                    [nom] => date46
                                    [ordre] => 46
                                    [valeur] => 25/01/2023
                                )

                            [35] => Array
                                (
                                    [id] => 258000371
                                    [nom] => date47
                                    [ordre] => 47
                                    [valeur] => 24/01/2023
                                )

                            [36] => Array
                                (
                                    [id] => 258000372
                                    [nom] => date48
                                    [ordre] => 48
                                    [valeur] => 23/01/2023
                                )

                            [37] => Array
                                (
                                    [id] => 258000373
                                    [nom] => date49
                                    [ordre] => 49
                                    [valeur] => 22/01/2023
                                )

                            [38] => Array
                                (
                                    [id] => 258000374
                                    [nom] => date50
                                    [ordre] => 50
                                    [valeur] => 21/01/2023
                                )

                            [39] => Array
                                (
                                    [id] => 258000375
                                    [nom] => date51
                                    [ordre] => 51
                                    [valeur] => 20/01/2023
                                )

                            [40] => Array
                                (
                                    [id] => 258000376
                                    [nom] => date52
                                    [ordre] => 52
                                    [valeur] => 19/01/2023
                                )

                            [41] => Array
                                (
                                    [id] => 258000377
                                    [nom] => date53
                                    [ordre] => 53
                                    [valeur] => 18/01/2023
                                )

                            [42] => Array
                                (
                                    [id] => 258000378
                                    [nom] => date54
                                    [ordre] => 54
                                    [valeur] => 17/01/2023
                                )

                            [43] => Array
                                (
                                    [id] => 258000379
                                    [nom] => date55
                                    [ordre] => 55
                                    [valeur] => 16/01/2023
                                )

                            [44] => Array
                                (
                                    [id] => 258000380
                                    [nom] => date56
                                    [ordre] => 56
                                    [valeur] => 15/01/2023
                                )

                            [45] => Array
                                (
                                    [id] => 258000381
                                    [nom] => date57
                                    [ordre] => 57
                                    [valeur] => 14/01/2023
                                )

                            [46] => Array
                                (
                                    [id] => 258000382
                                    [nom] => date58
                                    [ordre] => 58
                                    [valeur] => 13/01/2023
                                )

                            [47] => Array
                                (
                                    [id] => 258000383
                                    [nom] => date59
                                    [ordre] => 59
                                    [valeur] => 12/01/2023
                                )

                            [48] => Array
                                (
                                    [id] => 258000384
                                    [nom] => date60
                                    [ordre] => 60
                                    [valeur] => 11/01/2023
                                )

                            [49] => Array
                                (
                                    [id] => 258000385
                                    [nom] => date61
                                    [ordre] => 61
                                    [valeur] => 10/01/2023
                                )

                            [50] => Array
                                (
                                    [id] => 258000386
                                    [nom] => date62
                                    [ordre] => 62
                                    [valeur] => 09/01/2023
                                )

                            [51] => Array
                                (
                                    [id] => 258000387
                                    [nom] => date63
                                    [ordre] => 63
                                    [valeur] => 08/01/2023
                                )

                            [52] => Array
                                (
                                    [id] => 258000388
                                    [nom] => date64
                                    [ordre] => 64
                                    [valeur] => 07/01/2023
                                )

                        )

                )

            [55] => Array
                (
                    [id] => 258000558
                    [nom] => Pour tri par commune
                    [type_critere] => 1
                    [type_valeur] => 2
                    [classe] => 32
                    [modalites] => Array
                        (
                            [0] => Array
                                (
                                    [id] => 258000485
                                    [nom] => Rosheim
                                    [ordre] => 80
                                )

                        )

                )

        )

    [disponibilites_synthetiques] => Array
        (
        )

    [disponibilites_detail] => Array
        (
        )

)